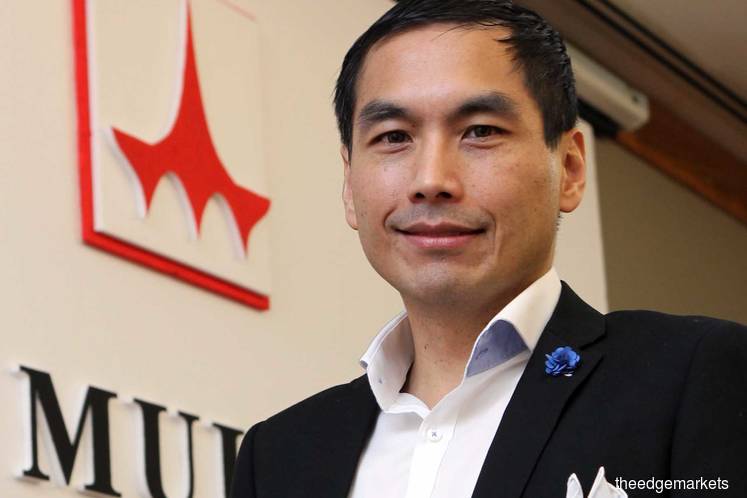 KUALA LUMPUR (Dec 14): Malayan United Industries Bhd (MUI)'s new executive chairman Andrew Khoo Boo Yeow, who is the second oldest son of its former chairman Tan Sri Khoo Kay Peng, says he will consider selling the group's assets, even its prized ones, if it makes business sense.
This would differ from the stance of his father. The senior Khoo has in the past been reported to have been sentimental about the group's assets, in particular the group's flagship Corus Hotel in London's Hyde Park.
"I come from a different generation, so to me I am not so attached. My business approach is I like to be more objective, so I will have to look at what is best for the group, if it makes sense to sell we will sell, or if it makes sense to build particular a business we will do it.
"But you know, anything can be sold for a price if the right offer comes along, so we should not be too attached to assets," he told reporters at a news conference today.
When asked if he saw an urgent need to sell assets to raise cash for MUI, Andrew said there isn't, but shared that the group's goal is to have a gearing level below 0.5 times. As of June 30, 2018 the group's gearing ratio is at 1.12 times.
"It's not urgent, but I would say we need to sell our assets at the right timing, the right pricing and the right offer. We are asset rich, so we just need to make sure that we do it [asset disposals] under the right circumstances," he said.
The group's net assets per share as of June 30, 2018 is 18 sen, while its share price at time of writing is at 15.5 sen.
MUI's businesses include retail, hotels, food, property and financial services. The group owns and operates hotels in Malaysia and the UK under the Corus and Laura Ashley brands. They include the Corus Hotel in Jalan Ampang, Kuala Lumpur, and Corus Paradise Resort in Port Dickson, Negeri Sembilan.
As for its retail division, the group owns 98.21% of Metrojaya Bhd and 35.17% of London-listed Laura Ashley Holdings plc.
At 46 years of age, Andrew is also the group's chief executive officer (CEO). He will be taking on both chairman and CEO roles as the group as the group embarks on a transformational phase. It is interesting to note that though much has been written about senior Khoo's media shy approach, his son starts off the news conference, which the group called to announce its plans going forward, by telling the press "ask me anything".
"I am here like a sales person, to tell you we have a good future [ahead]," he quipped.
"Let me break it down, there is going to be three strategic thrusts for the group, with the first being corporate and capital restructuring, which is already underway for 12 to 18 months, and we have another two years to go. The corporate and capital restructuring is to make sure we are more streamlined, more focused, [and] more efficient in what we want to do. It may mean things like [asking ourselves] how many listed companies do we want and how many dormant companies do we want to wind up.
"We want to rationalise our assets, (which) means that we are more focused in what we want to do, and the second part to that is we want to develerage. So we want to pare down our borrowings, and that will make us stronger.
"The third part will be our business transformation. To transform the entire business as we look to the future," he said.
On what he means by business transformation, Andrew says "he does not want to do any business, which has no meaning".
"I want to transform the business to become more lifestyle driven. We are doing that with our existing brands, but we are bringing in new brands such as Baker & Cook which is a lifestyle bakery; we will bring that into Metrojaya and to our Corus hotels too, hopefully.
"For Laura Ashely, we are working on Laura Ashley spa, Laura Ashley hotels, everything we do would have a lifestyle focus," he said.
Part of its transformation is incorporating e-commerce for its Metrojaya stores.
"For us we are just starting the e-commerce journey, we recognise a need to go into e-commerce but we have to do it the right way with the right partners. We have started to look at partners in the last few months.
"Yes, e-commerce is vital for our business because if we don't do it now we will be behind the curve. We cannot ignore it, we must do it, but we want to do it properly. Metrojaya currently has an e-commerce presence through third party websites [such as Lazada], but we can't just rely on that, we need our own platform as well, as well as social media and digital marketing, it's a whole ecosystem.
"Laura Ashley is already doing it, and they are doing it well, e-commerce makes up 25% of their sales," he said.
On whether MUI can be a dividend stock once it restructures its operations, Andrew says that it is the intention.
"That is the intention, because then we will be a more closely followed stock. We want MUI to be [a] sustainable business and give back to our stakeholders, and a consistent dividend policy will be good, that will be the plan. It depends on how fast we can turn and transform the business, which we hope to do so in two years," he said.
Source: The Edge Markets