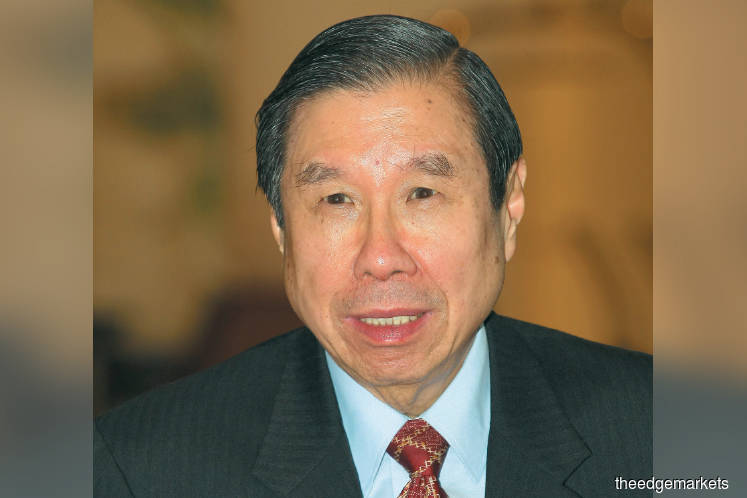 KUALA LUMPUR: Tycoon Tan Sri Khoo Kay Peng (pic) has resigned as the executive chairman of Malayan United Industries Bhd (MUI), after more than four decades of helming the company, and will be replaced by his son Andrew Khoo Boo Yeow.
In a statement yesterday following the announcement of the resignation, MUI said Boo Yeow had been appointed by its board of directors as its executive chairman after assuming the role of group chief executive officer on Jan 1.
MUI credited Khoo with transforming the company from a small manufacturer of toothbrushes and carton boxes into a large multinational and multi-industry group.
At its height, the group's diversified businesses included a commercial bank, a licensed finance company, a general insurance group, hotels, prime commercial and landed properties, cement manufacturing, sugar refinery as well as overseas investments.
"He has left a huge legacy that's near impossible for anyone to replicate. Nevertheless, I shall always look up to what he has achieved, draw inspiration from his remarkable achievements, and continue to follow the values he espoused as I begin to chart a new course for the MUI Group," Boo Yeow said.
Khoo was appointed as a director of MUI in 1971, and had been the group's chief executive and chairman since 1987, before he was redesignated as executive chairman on Jan 1, 2018.
His previous appointments included chairman of Tourist Development Corporation (now known as Malaysia Tourism Promotion Board), vice-chairman of Malayan Banking Bhd (Maybank), and trustee of the National Welfare Foundation.
He also sat on the Boards of SCMP Group Ltd (South China Morning Post), Bank of East Asia Ltd, Hong Kong, and Northwest University in the US.
For his contributions to society, he was conferred honorary doctorate degrees by three universities — the Curtin University of Technology, Australia; Northwest University, and UCSI University in Malaysia.
Among the business accolades he has received are the Manager of the Year Award by the Harvard Business School Alumni Club of Malaysia, Entrepreneur of the Year Award by the Asian Institute of Management Graduates' Association of Malaysia jointly with the Association of Banks, the Lifetime Achievement Award for Leadership in Global Business by the Asian Strategy & Leadership Institute, and another Lifetime Achievement Award for Entrepreneurship by Enterprise Asia.
Source: The Edge Markets